See updated media release here.
The recently released report by Safe Work Australia shows that the ACT is the least safe jurisdiction in Australia to work, with injury rates in the private sector increasing by 25.5 percent since 2011.
Rates of injury in the ACT during the most recent reporting period are at 12.3 serious claims per 1000 employees, compared to the Australian average of 9.3 serious claims.
In the same period, WorkSafe ACT recorded a decrease in the number of proactive (down 10 percent) and reactive (down 6 percent) workplace visits.
The ACT also recorded the largest decrease in the number of infringement notices issued in 2014-15 (down 70 percent), compared to the previous year.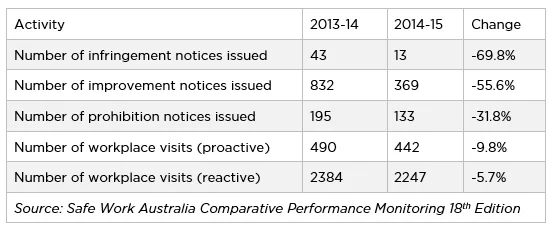 For example, in the construction sector, the number of serious claims has increased from 21.8 serious claims per 1000 employees to 29.1. There have also been dramatic increases in a range of other industries.
The following quotes are attributable to Alex White, secretary of UnionsACT:
"Two year ago, unions praised Work Safe for their increased numbers of proactive and reactive inspections, prosecutions and fines.
"Now, we see what happens when Work Safe prioritises education programs over inspections and compliance activities.
"It is appalling and unacceptable that the ACT is the least safe place to work anywhere in Australia.
"We need Work Safe ACT focused on enforcing workplace safety laws, and holding unscrupulous, unsafe employers to account.
"Unions treat workplace safety as our number-one issue – and that's why union officials conduct safety visits and walks in workplaces and construction sites.
"The community will not tolerate dodgy employers who treat workers' safety as an after-thought.
"Sadly, the lobbying of some big business groups over the past two years, and unfounded claims that workplace safety concerns are a 'myth' appear to have worked.
"How many more serious injuries and workplace fatalities does Canberra need before safety is treated seriously?"
Safe Work Australia March 2017 Report link:
http://www.safeworkaustralia.gov.au/sites/swa/about/publications/pages/cpm-18