The most recent comparative safety report by Safe Work Australia confirms that the ACT is again the second least safe jurisdiction in Australia to work.
Rates of serious injury in the ACT during the most recent reporting period are at 3.5 serious claims per 1000 employees, compared to the Australian average of 2.8 serious claims.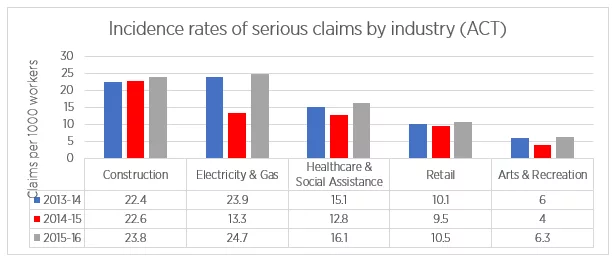 In the same period, WorkSafe ACT recorded a decrease in the number of compliance activities (down an average of 84 percent) compared to 2014, the year before it was merged into Access Canberra.
On an industry basis, the ACT continues to show some of the worst workplace injury rates in Australia, with several industries getting worse.
Canberra is the most dangerous place in Australia to be a construction worker, or a worker in the electricity & gas sector, healthcare, social assistance sector, retail or arts & recreation (which includes clubs and the casino).
The following quotes are attributable to Alex White, secretary of UnionsACT:
"The ACT is the second least safe place to work in Australia for the second year running.
"But Canberra has a work safety regulator who thinks sending twitter updates and newsletters will keep workers safe.
"We have just had a crane audit and scaffolding audit where almost every single crane and scaffolding company failed the audit, and there were more than 600 serious injuries in the Canberra construction sector last year.
"We need WorkSafe ACT focused on enforcing workplace safety laws, and holding unscrupulous, unsafe employers to account.
"Instead, WorkSafe was merged into the same agency that regulates motor boat licensing, gaming, pet registration and refund complaints.
"It is unacceptable for WorkSafe and the ACT Government to quibble with these numbers; this is data provided directly by the ACT Government to Safe Work Australia.
"How many more serious injuries and workplace fatalities does Canberra need before safety is treated seriously?"