The impact of climate change, and public policies to mitigate and adapt to global warming represents the largest structural economic change in Australia's history. Rapid change is needed, and is already taking place. It is essential that the change in the ACT is one that involves working people and their communities, helps create new jobs and skills, and promotes equality.
The Federal Government's savage cuts to public services and local jobs in Canberra, combined with rhetoric of innovation and agility highlights the central importance of having a progressive, pro-worker government in the ACT.
A major challenge facing the ACT Government is how to stimulate growth in the private sector, while directing sufficient funding to provide high quality public services. The Government's approach to sustainability and job creation is integral to facing this challenge.
To have a just transition in Canberra, the ACT Government must not only ensure that working people and the community are more deeply engaged in decision-making, but there must be meaningful investment in social justice outcomes and job creation. As new sectors and industries grow, there is a central role for the ACT Government to ensure that this does not occur at the expense of decent work, with secure and decent employment conditions. Similarly, there is a strong need for increasing support for workers through training, so that the transition happens quickly, efficiently and fully tapping the potential of the existing workforce.
UnionsACT has prepared this discussion paper to demonstrate practically how the just transition can achieve the triple-outcomes of job creation and economic growth, social justice outcomes and climate benefits.
UnionsACT Discussion Paper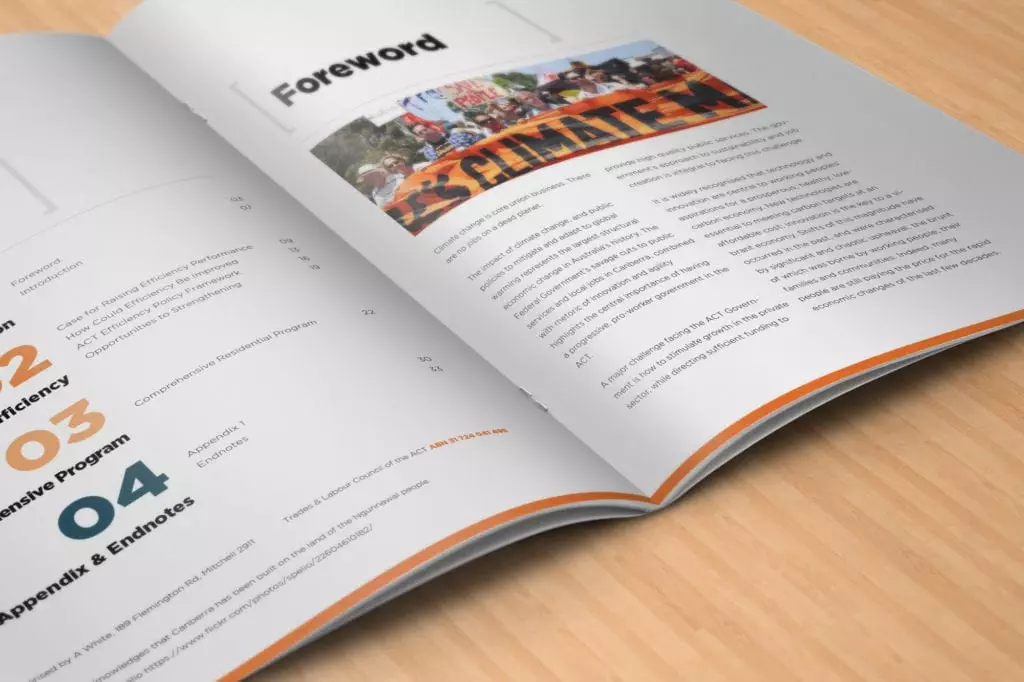 UnionsACT has as a key objective to advocate for big, important permanent policy changes to benefit working people and their communities.
This document is a UnionsACT Discussion Paper.
As a discussion paper, it designed to provoke debate, develop new ideas and influence long-term policy thinking amongst the Government, the community and unions and is designed to inform and stimulate debate and discussion on a pressing issue facing policy-makers. While this document contains recommendations, they are provided to demonstrate how the ideas in the document could practically be implemented.
This discussion paper looks at the ACT Government's existing Energy Efficiency Improvement Scheme. Energy efficiency is often called the 'fifth fuel', and is the cheapest, cleanest and largest source of new energy available to our economy.
Savings in energy and water use is worth potentially tens of millions of dollars, to individuals and to the government. Saving a kilowatt hour of energy can cost as little as one-sixth of a cent, compared to the 10+ cents it would cost to generate using fossil fuels or renewables. The payback of energy efficiency improvements is typically measured in months, not years.
Yet the benefits for the economy, for jobs, for communities, for the government, and for the climate are only realised when energy efficiency measures are implemented at scale – that is, across entire communities or cities.
The existing efficiency scheme in the ACT is well-meaning, but lacks ambition.
This discussion paper proposes a substantial scaling up of the EEIS.
As the paper explains, this would have three key benefits:
Firstly, a much larger EEIS would create jobs. UnionsACT estimates as many as 760 new jobs (net) would be created over ten years.
Secondly, household bills would be cut by as much as $1,360 per year, which for many people means avoiding energy poverty.
Finally, Canberra's carbon emissions would be more rapidly decreased. Households account for 40 percent of the ACT's carbon emissions, so improved energy efficiency is essential for the ACT to meet its zero carbon targets by 2025.
Flowing from these three principal benefits are others. Reduced water use would make Canberra more resilient to drought. Retrofitted houses would improve health and community wellbeing. Lower bills and more comfortable homes would improve social equity. Almost $700 million of investment would be unlocked across the ACT economy through stronger, larger efficiency standards.