Working people in Canberra want to do their bit to tackle the climate change crisis and unions believe it is important they are given a say in their workplace, including to create sustainable workplaces.
It is beyond doubt that climate change is a pre-eminent challenge that faces the world, and all working people.
Volunteer and get active
Join Unionists for Climate Justice
The scientific evidence that climate change has become a crisis is overwhelming and no longer in dispute.
The union movement understands the challenge of climate change and wants to ensure workers can be part of the solution through creating greener and more environmentally-friendly workplaces.
We are calling for a Just Transition. Find out more here or download our Fact Sheet.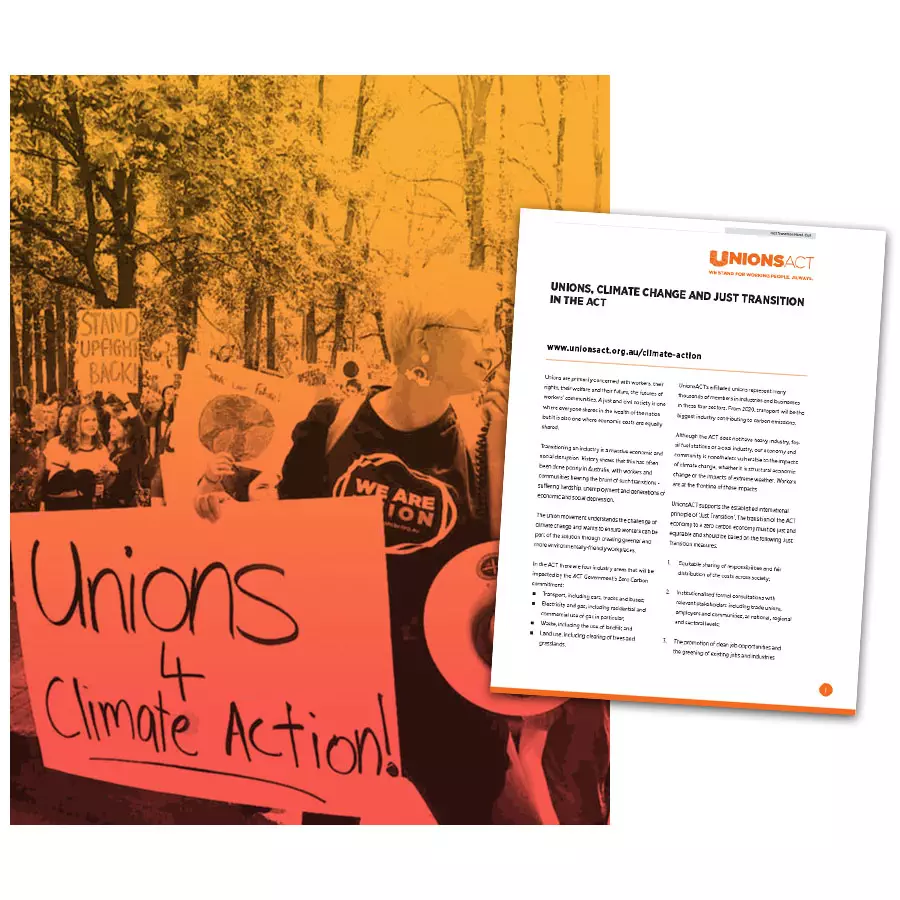 Just Transition Fact Sheet
---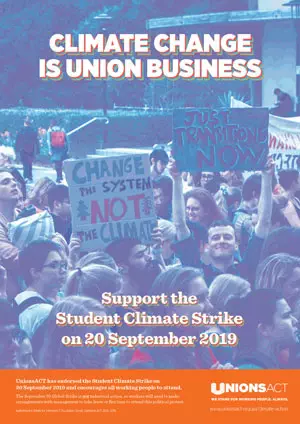 UnionsACT endorses the "Student Climate Strikes"
Download the poster for your workplace here.
The 20 September "Global Student Strike" is not industrial action, so workers will need to make arrangements with management to take leave or flex time to attend this political protest.
---
Unions have long campaigned on issues outside of narrow workplace issues.

For working people, addressing climate change is core union business.

There is nothing more important facing humanity than the dangers of a warming planet. We have no time to lose.

The challenges of global warming amount to a new class war.

The world's poorest people pay the price for the carbon pollution of the richest.

The struggle for workers' rights is intimately linked with climate action.

Alex White, Secretary, UnionsACT
Australia must become a zero carbon economy as soon as possible.
The powers-that-be, the climate deniers in the Morrison government, say that you can only choose between jobs and the climate.
This is a false choice.
We can have jobs and climate action, and justice. A safe climate must go hand-in-hand with secure jobs.
We must invest in skills, jobs and technology.
The transition from coal to renewables must be dignified and take place in genuine consultation with affected workers and communities.
It just be a Just Transition.
---
Other Resources